Gobi tour 5nights /6 days Itinerary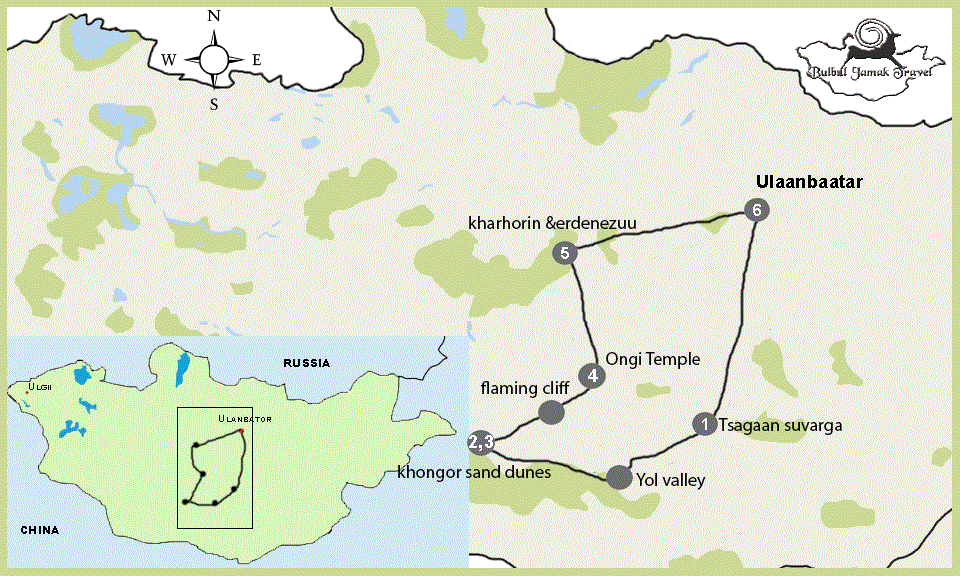 Day 1. Tsagaan Suvarga( white stupa)
We will drive to Tsagaan Suvarga.The rocky formations of Tsagaan Suvarga, "white stupa", are located in the Southeast of the sum Olziit, on the Southern border of the province of Dundgovi. These rocky formations eroded by the wind look like a ruined city if you observe them from a certain distance 85km. white stupa about 50 m high and 400 m long.
Enjoy beautiful picturesque cliffs.
overnignt in tents
Day 2,3. Khongor sand dunes. camel backriding. Yol valley
Today drive to Khongor sand dunes , on the way we will see Youl valley then continue to Khongor dunes, It's one of the largest sandy areas of Mongolia. Suddenly standing out from the plains, they are undoubtedly among the most spectacular of the country. The wind continuously blows from North towards West and the dunes can reach breathtaking heights, between 100 and 300 m at their highest points. Khongor sand dunes are more than 180 km long and can reach 27 km wide. The inhabitants name their imposing dunes "singing dunes" due to the noise made by the wind when it moves the sand
Hiking and sliding hrough the sand dunes(1 hour camel riding)
Night in Ger camp.
Day 4. Bayanzag flaming cliff, Ongi temple in Middle Gobi.
After breakfast drive to Ongii temple on the way to see in flaming cliffs have lunch. Palaeontologist Roy Chapman Andrews was the first to discover dinosaurs' bones and egg. Bayanzag red sand cliffs, today better known as "flaming cliffs" due to their colours ochre and red, are located about 100 km (62,14 miles) at the northwest of Dalanzadgad. Bayanzag means "rich in saxaul". This thorny shrub measuring approximately two meters high proliferates in the surroundings and is a good source of food for camels.. stay in tent
Day 5,6. visit Kharhorin ancient capital, Erdenezuu Monastery drive back Ulaanbaatar.
Today we will drive to Kharkhorin, next day drive back toUlaanbaatar.
it is located at the lower end of the upper valley of the Orkhon river which is included within UNESCO world heritage site Orkhon Valley cultural landscape. For short time it was the capital of the Mongol empire during Ogedei Khan. In the mid of 13-th century it was as trade center in Mongolia,and good times lasted for 40 years Until Khubilai Khan moved capital to khanbalikh(beijing).
Stay in tent.
Accommodation at the tourist camp in the countryside, in tents
All entrance fees to museum and Nat.Parks
Guide service for all program
english speaking guide,driver,cook
trip equipments..,
Excursions as per itinerary and entrance fees to all museums and National parks
Horse, camel riding
Meals during whole trip
Transport for all program
Visit Nomads family