Gobi tour 9 nights / 10 days Itinerary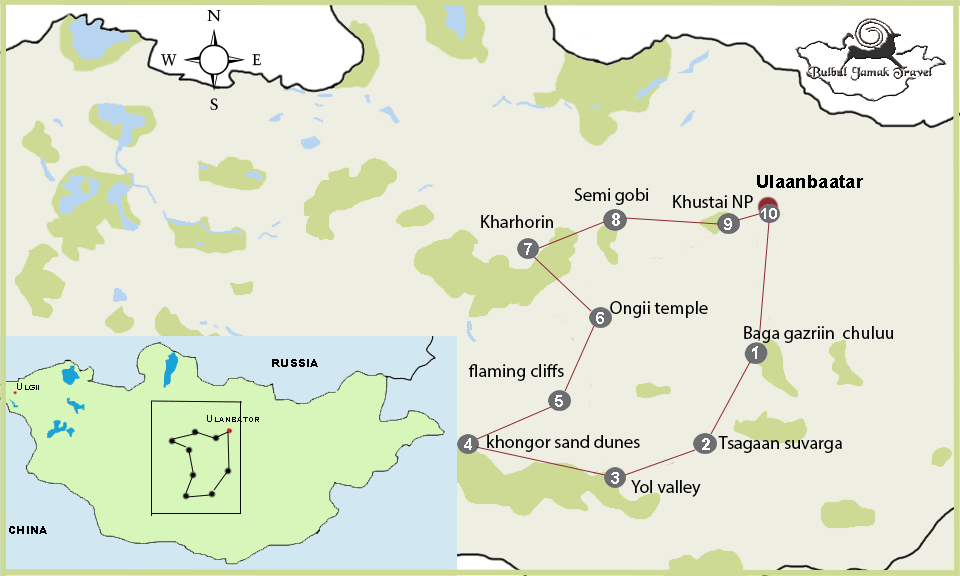 Day 1.Baga gazriin chuluu
Start driving to Baga Gazriin Chuluu stone massif. The highest one is 15 km long and 10 km wide granite stone-mountain elevated at 1768m above sea level. Check in Hiking, trekking in the stone-mountain is possible. Stay overnight in tents.
Day 2. Tsagaan Suvarga( white stupa)
Day 2. After breakfast start driving to Tsagaan Suvarga via Mandalgobi city. Have lunch on the way Mandalgobi city. Watch Tsagaan Suvarga, massive earth formation eroded in wind and rainwater which was once bottom of sea. Stay in a tents.
Day 3. Yol valley
After breakfast start driving to Dalanzadgad city. Stop in Dalanzadgad for lunch and go shops a few minutes , continue driving to Yolyn Am ice valley. Hiking trekking at the mountain. Horse riding is available here. stay in tents.
Day 4. Khongor sand dunes. camel backriding
Next day start drive to Khongoryn Els Singing Sand Dune via Bayandalai village. Reach Khongoryn Els Singing Sand Dune and check in to a local guesthouse run by local nomadic family. Camel riding to the sand dune is available. Climbing to the top of the sand dune. Return to guesthouse. Dinner at guesthouse. Sleep in ger.
Day 5. Flaming Cliffs
Breakfast at guesthouse. Start driving to Bayanzag Flaming Cliffs via Bulgan village. Lunch along the way. Watch Bayanzag Flaming Cliffs. Stay in tents.
Day 6. Ongiin Khiid
Breakfast at the ger camp. Start driving to the ruin of Ongiin Khiid. Visit Buddhist monastery site, built in 1760, but was destroyed by communists in 1937.. Sleep in tents
Day 7. Orkhon Valley, waterfall.
Breakfast at the camp. Drive to Ulaan Tsutgalan(red waterfall). The water fall located at the historically Orkhon valley with volcanic rocks in central Mongolia. The beautiful landscapes camping ,horse riding, photography, fishing and visit local nomad families here and have good an opportunity to experience their way of life, culture and tradition. Stay in tents.
Day 8. Kharhorin & Erdenezuu monastery.
Start driving to Kharkhorin via Khujirt village. Lunch at a local cafe in Khujirt village. Continue driving to Kharkhorin. Reach Kharkhorin by late afternoon. Visit Erdenezuu Temple, the oldest Buddhist temple built in 1585, using the leftover material of Karakorum city. Visit local Karakorum museum, and archeological site. Check in to a local guesthouse. Dinner at the guesthouse. Sleep in ger.
Day 9. Semi Gobi
Breakfast at the guesthouse. Drive to Semi Gobi stay, hiking on the mountain, watch traditional concert(performance by local guys) and visit the family who has Golden eagle. Stay in tents.
Day 10. Hustai National Park.
Drive Hustai National Park, where you can watch last wild horse on the globe in the wild, nearly evening back to UB.
Accommodation at the tourist camp in the countryside, in tents
All entrance fees to museum and Nat.Parks
Guide service for all program
english speaking guide,driver,cook
trip equipments..,
Excursions as per itinerary and entrance fees to all museums and National parks
Horse, camel riding
Meals during whole trip
Transport for all program
Visit Nomads family