Altai Mountain trekking tour itinery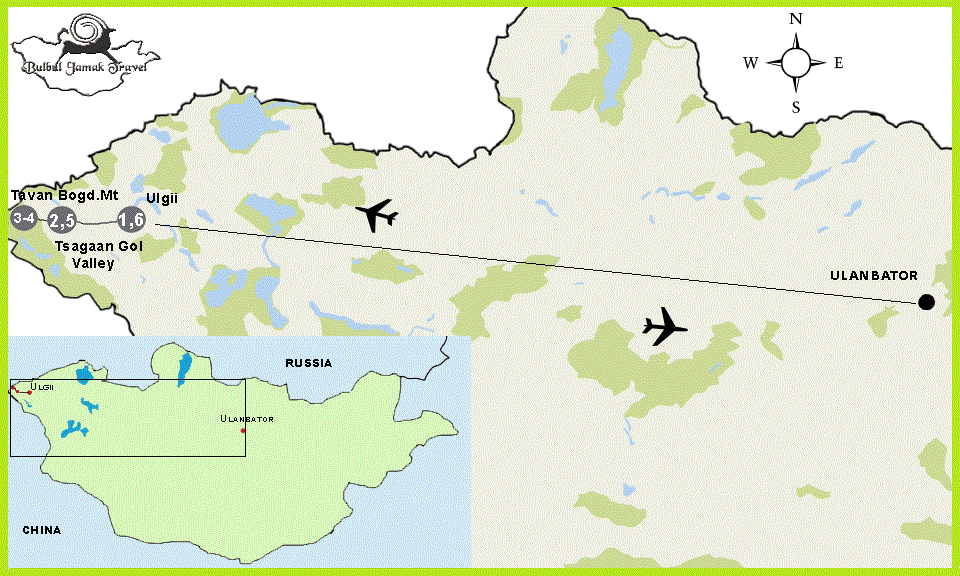 Day 1. Fly to Bayan Ulgii, Western Mongolia.
Fly to Ulgii, the capital of the Bayan Ulgii province. The flight takes about 2 halp hours, and on arrivel at the airport in Ulgii you will meet our guide and driver , visit the most intersting local museum with comprehensive information of flora and fauna of Bayan-Ulgii as well as it colorful trational costumes. Visit a handcraft shop. Stay in a local hotel.
Day 2. Drive to Altai Tavan Bogd and Tsagaan Gol Valley.
Drive by minivans (furgon) 165 km along the north western road.We reach the holy Mountain Shiveet Hairhan, where the Tuvan people live. Here we will be able to view the biggest petroligyphs from the period of the huns (approx 200 B.C) the Huns were the reason for the Chinese eperor Qin Shi Huangdi to build the great wall of China. Over night in tent.
Day 3-4. Tavan Bogd massif
Trek for 11 kms toward the base camp of the snow capped Tavan Bogd massif,with support of camel and horses. Pitch camp next to the 20 km patanian glaciar- the biggest of the twenty glaciers in Mongolian Altai. Remain there two nights. Tavan Bogd means "The Holy Five" referring to the five highest peaks, which Huiten Uul is the highest in Mongolia, 4374 meters above sea level. Quite a considerable height at this altitute. It is a stunning setting with the awe-inspiring massif of high snow-capped peaks. Next day climb Malchin peak 4025 meters high and these are non technical-climbs. Wonderful view of all the peaks and Potania glacier as well as Russian and Kazakhstan territory.This peak divedes Mongolian and Russian border.
Day 5,6. Back to Tsagaan Gol Valley and drive To Ulgii
Trek back to the head of Tsagaan Gol valley where Tuvan people spend their summer. Drive via Ulaan-Hus , with snow-capped Sogoog Mountain as a powerful backdrop and the Altai mountain range ahead of us. We will find numerous petroglyphs and Turkic stones along the river basin. Bayan Ulgii is rich in arheological remains, as a reminder of the Bronze Age and the time of the Huns and Turkic invasions. After 5-6 hrs, arrive back to Ulgii town and stay in a hotel.
Day 7. Transfer to the airport, departure UB.
Accommodation at the tourist camp in the countryside
Accommodation in tents
All entrance fees to museum and Nat.Parks
City tour ticket
Folklore show
Guide service for all program
Excursions as per itinerary and entrance fees to all museums and National parks
Horse, camel riding
Meals during whole trip
Transport for all program
Visit Nomads family
Airport Transfers