Tsaatan family & reindeer tour itinery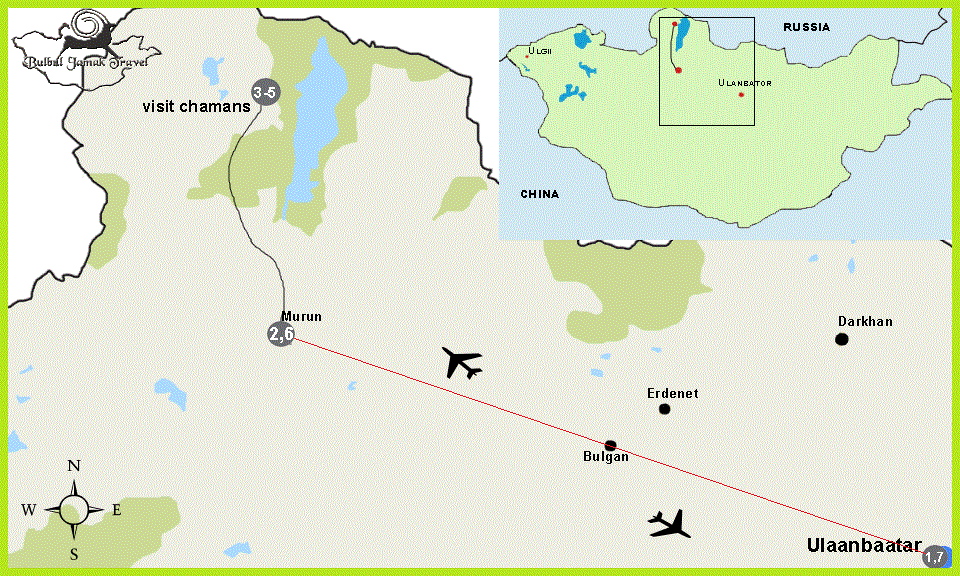 Day 1. Arrival UB and transfer to Hotel, sightseeing with Gandan and Choijin Lama monastery.
Day 2. Fly to Murun, Khuvsgul province.
Arrive Murun ,have a lunch in a local restaurant and start off roads adventure to Uushigiin Uvur, a complex of deer stones, burial mounds and tombs. The deer stones spread widely in Central Asia. 600 deer stones were found in Central Asia. 500 of them were found in the territory of Mongolia. Deer stone is the first monuments of human. The earliest of them belong to XIII-IX century BC while most of them belong to the Bronze age, drive to Ulaan-Uul village, stay in tent.
Day 3,4,5. Drive to Richinlhumbe, Visit Chamans.
On the to Rinchinlhumbe spend one night In Ulaan-Uul, next day continue our journey.
The small town Renchinlhumbe is located in the remote Khoridol Saridag mountain, and is an outpost in the wild terrain of this Darkhad valley. During next lovely days, you will have opportunity to ride reindeer and Observe them. We will spend next day in walking, hiking horseback riding in the environs at the lake and the nearby mountains, visiting the local nomadic families. And visit Chamans to see their rituals. Stay in tent
Day 9. Drive to Murun
After breakfast drive to Murun town, the capital of Huvsgul province. Take a city tour of Murun town and visit museum. Relax in local hotel.
Day 10. Fly to UB, stay in Hotel
Accommodation at the tourist camp in the countryside
Accommodation in tents
All entrance fees to museum and Nat.Parks
City tour ticket
Guide service for all program
driver, private cook, guide
Excursions as per itinerary and entrance fees to all museums and National parks
Horse, camel riding
Meals during whole trip
Transport for all program
fuel /petrol
Visit Nomads family