Darkhad valley & horse riding Itinerary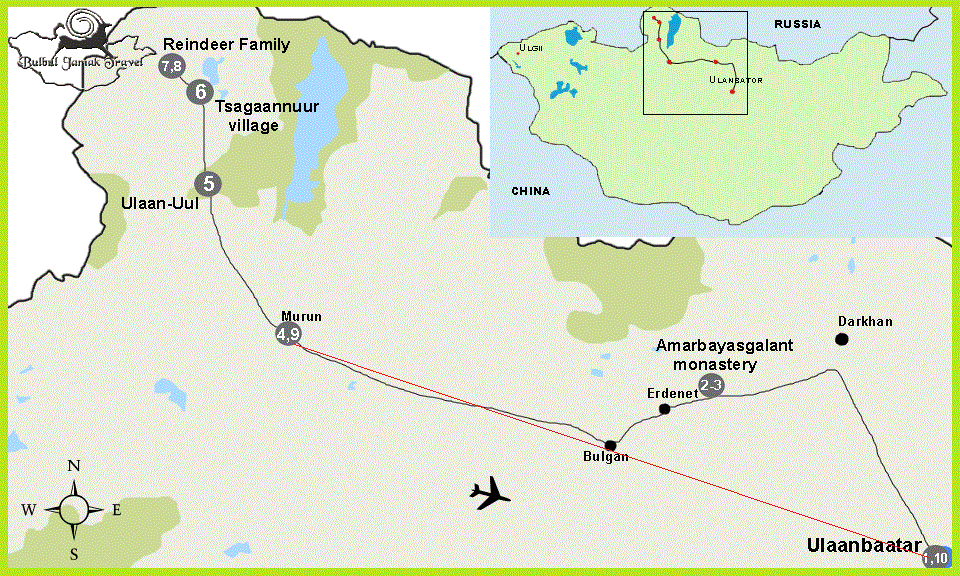 Day 1. Arrive UB airport and meet by our team. Transfer to your hotel.
Today we will do city site seeing tour. Explore Gandan Monastery, Buddhist center in Ulaanbaatar. See,
Zanabazar Museum
Chojin Lama temple. Lunch time in a typical Mongolian Restaurant
Day 2. Drive to Amarbaysgalant Monastery.
After you picked up from your hotel in Ulaanbaatar, we will drive to Amarbayasgalant monastery, which is the second largest monastery in Mongolia, is located in the beautiful Iven Gol river valley on the foot of Burenkhaan Mountain in Baruunburen town of Selenge province. This is one of the few monasteries in Mongolia, which survived mostly intact the purges of the 1930s. We will stay overnight with a Mongolian traditional accommodation ger for tonight.
Day 3. Visiting Amarbayasgalant Monastery
After having breakfast, we will visit Amarbayasgalant Monastery for enjoying the chanting ceremony there. After visiting the monastery and having lunch, we will do a half day of horseback riding around the area. Hiking around would be the best choice to do here. We will stay with Mongolian family ger for tonight. (Breakfast, Lunch and Dinner)
Day 4. Drive to Murun
After breakfast drive to Murun town, the capital of Huvsgul province. Take a city tour of Murun town and visit museum. Relax in local hotel.
Day 5,6. To Tsagaannuur village, Darkhad valley.
On the way Tsagaannuur village , visit a fantastic historical area including 2-3m high deer stone, 3-4m high tombs, ruins of Munh Khaan's palace and monuments for Kul Bilge Khaan in Uushgi uvur, spend one night In Ulaan-Uul, next day continue our journey, evening stay in tents near by the lake.
Day 7,8 Visit Taiga Reindeer famiely.
During next lovely days, you will have opportunity to ride reindeer and Observe them. We will spend next day in walking, hiking horseback riding in the environs at the lake and the nearby mountains, visiting the local nomadic families. And visit Chamans to see their rituals. Stay in tent
Day 9. Drive back to Murun, stay in hotel.
Day 10. Fly to UB, stay in Hotel
Accommodation at the tourist camp in the countryside
Accommodation in tents
All entrance fees to museum and Nat.Parks
City tour ticket
Folklore show
Guide service for all program
Driver private cook, guide
Excursions as per itinerary and entrance fees to all museums and National parks
Horse, camel riding
Meals during whole trip
Transport for all program
Fuel/petrol
Visit Nomads family