Middle and South Gobi tour Itinerary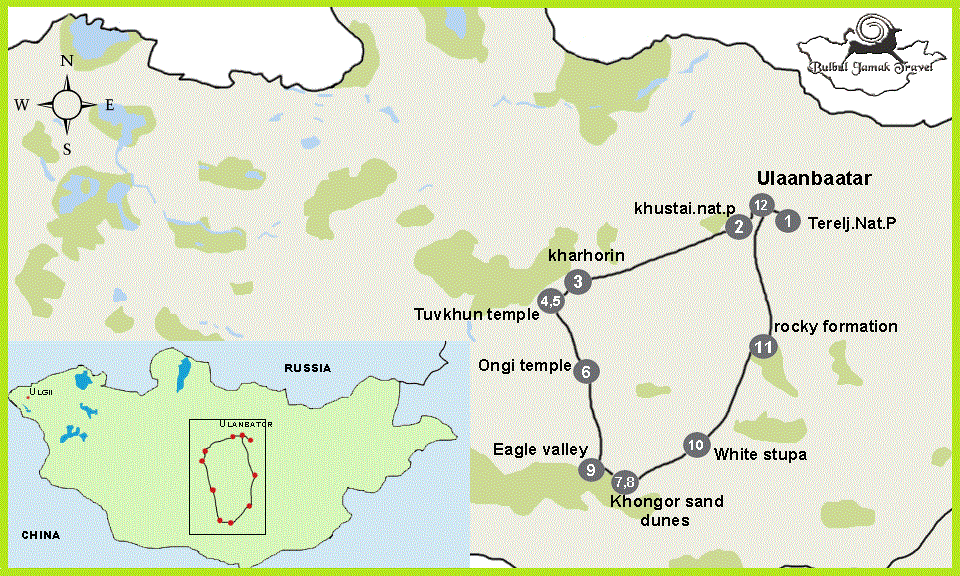 Day 1. Fly to Ulaan-Baatar, Terelj Nat.Park
Begin the journey to Terelj Nat.Park. Visit the turtle rock and the dinosaurs park, visit the Old Man Reading a Book. Walking, hiking around, horse riding. Overnight at Ger Camp.
Day 2. Hustai Nat.Park, Wild Przewalski's horse.
Przewalski's horses are the last surviving subspecies of wild horse. First described scientifically in the late 19th century by Russian explorer N. M. Przewalski, for whom the horse is named, the horse once freely roamed the steppe along the Mongolia-China border. Never again seen in the wild, Przewalski's horses have since been kept and bred in captivity and have recently been reintroduced in Mongolia.
Day 3 - Head to Arkhangai province, on the way ancient capital Kharhorin. Visit Erdenezuu monasterey, overnight in tourist camp.
Kharkhorin is located at the lower end of the upper valley of the Orkhon river which is included within UNESCO world heritage site Orkhon Valley cultural landscape. For short time it was the capital of the Mongol empire during Ogedei Khan. In the mid of 13-th century it was as trade center in Mongolia,and good times lasted for 40 years Until Khubilai Khan moved capital to khanbalikh(beijing).
After Kharhorin was abandoned by vengeful Manchurian soldiers and destroyed in 1388s, then was badly damaged during the Stalinist purges. Erdenezuu is first buddhist Monastery in Mongolia, untill 1990 it was as a museum,then it was restored and become active again. Overnight tourist camp.
Day 4.5 Tovkhon temple, Orkhon waterfall
From Kharhorin 60km incredibly scenic monastery hidden in the deep Khangai Mountains and situated at the top of Shireet Ulaan Uul , was founded by Zanbazar in 1653 and lived, worked and medicated here for 30 years. It was destroyed in 1937, rebuilt with public funds in 1990s. We will stop at the bottom of the mountain, then walk up nearly an hour through the forest. After lunch we continue to seasonal waterfall Ulaan Tsutgalan, you can climb down to the bottom of the gorge, it's deep 22m. Late June and August are the best time to see it. Overnight in tent. Hiking near Orkhon river rest at the bank of river, walking, relaxing, see nomad's family. Overnight in tent.
Day 6. Ongi temple in the Middle Gobi
Continue driving to Saikhan Ovoo Soum in the Middle Gobi. On the way watch out ruins of monasteries: Ongiin, Hoshoo - here are plenty of interesting ruins to explore. Overnight at Ger Camp
Day 7,8 Khongor sand dunes.
Khongor dunes, "Khongoriin Els", are the most important sand mass of Gobi Gurvan Saikhan Nat.Park. Its area is more than 900 square kilometres (347,49 square miles). It's one of the largest sandy areas of Mongolia. Suddenly standing out from the plains, they are undoubtedly among the most spectacular of the country. The wind continuously blows from North towards West and the dunes can reach breathtaking heights, between 100 and 300 m at their highest points. Khongor dunes are more than 180 km long and can reach 27 km wide. The inhabitants name their imposing dunes "singing dunes" due to the noise made by the wind when it moves the sand.On the way Khongor sand dunes via Bulgan soum, overnight Bayanzag tourist camp. Next day continue our journey. Overnight in tourist camp.
Day 9. Eagle valley (Yolyn am) Dalanzadgad.
It's one of the natural secret of Gobi Gurvan Saikhan Nat. Park and beautiful deep canyon with many rocky cliffs, has been created by many years of water erosion.
The Yolyn Am (eagle valley), a protected site in 1965, is 62 km north west of Dalanzadgad.
Very wide at the intrance, it narrows gradually into a remarkable gorge. A spring 2 or 3 km long winds its way through the defile and in July, freezing into a thick corridor of ice that stretches along a considerable distance. In earlier times, the blocks of ice rarely melted, being protected from the vicious sunlight. This, however has changed in recent years, partially because of the multitudes of tourists that walk on the ice. You can still see ice here in July but it is almost completely melted by August. Following the canyon to the very end, one emerges into a beautiful wide valley. Surrounding mountains are home to argali, ibex, and many birds of prey, as well as numerous small rodents particular to the gobi. A small museum marks the entrance to the protected zone and provides information on the petrified trees, fauna and flora of the Gobi. The walk along canyon must be done on foot.
Evening stay in hotel, Dalanzadgad.
Day 10. Tsagaan Suvarga( white stupa)
The rocky formations of Tsagaan Suvarga, "white stupa", are located in the Southeast of the sum Olziit, on the Southern border of the province of Dundgovi. These rocky formations eroded by the wind look like a ruined city if you observe them from a certain distance 85km. They are about 60 m high and 400 m long. Overnight in tourist camp.
Day 11. Baga Gazriin Chuluu, in the Middle Gobi
Baga Gazariin Chuluu is 1751-meter high granite stone mountains in the territory of Adaatsag soum, Dundgobi aimag /Middle Gobi province/, is another place with unique scenery that many tourists compare with lunar scenes. The mountain contains remains of old temples. They are not only rich in minerals, crystals but also eyes spring, old stone temple ruins related with 17th century. Overnight in tent.
Day 12. Drive to UB
Stay in hotel
Accommodation in hotel in UB*** with breakfasts
Accommodation at the tourist camp in the countryside
Accommodation in tents
All entrance fees to museum and Nat.Parks
City tour ticket
Folklore show
Guide service for all program
Excursions as per itinerary and entrance fees to all museums and National parks
Horse, camel riding
Meals during whole trip
Transport for all program
Visit Nomads family