Fishing Delgermurun river tour Itinerary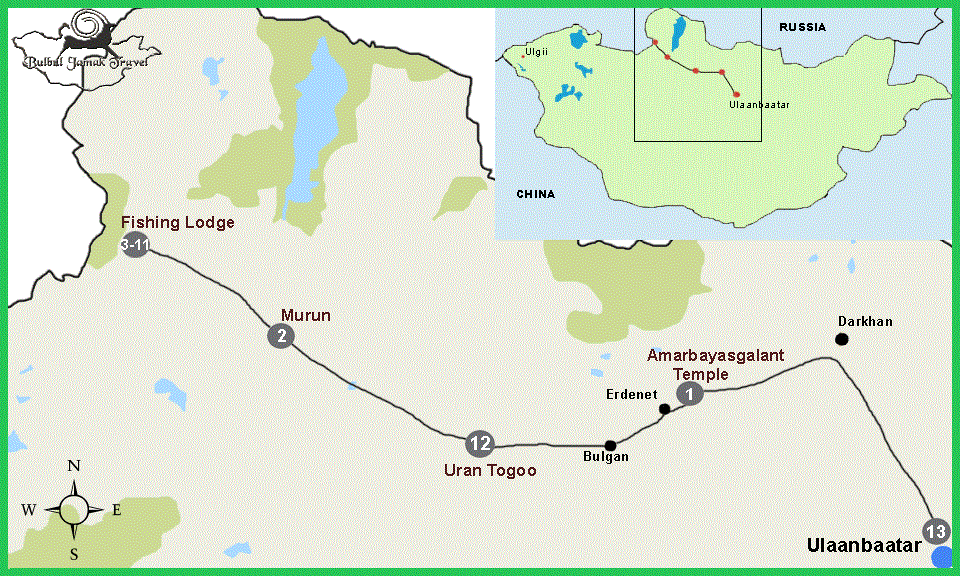 Day 1. UB-to Amarbayasgalant temple. Stay in tourist camp.
The monastery complex is located in the Iven Valley near the Selenge River. Amarbayasgalant monastery is dedicated to Zanabazar's main tutelary deity,Maitreya. Amarbayasgalant was one of the very few monasteries to have partly escaped destruction during the Stalinist purges of 1937, after which only the buildings of the central section remained. Many of the monks were executed by the country's Communist regime and the monastery's artifacts, including Thankas statues, and manuscripts were looted, although some were hidden until more fortunate times.
Day 2. Drive to Murun, over night in tent nearby the Delgermurun river.
The Delgermurun is a river in the Khuvsgul aimag in northern Mongolia. Together with the Ider river is one of the sourses of the Selenge river. The sourse is in the Ulaan Taiga range close to the Russian border, the confluence with the river is in Tomorbulag.
Day 3-11. Drive to Bayanzurkh soum and horse riding days.
The soum has 4202 residents, most of whom are immigrants. The central center of Altraga is located at the confluence of the Altrage and the Belt River, near the Delger River, 127 km northwest of the aimag center Murun .Fishing and horse riding days.
Day 12. Drive back to UB, on the way stay in tourist camp Bulgan soum.
Uran Togoo Volcano is an extinct volcano in the western side of Uran-Togoo Tulga mountain Natural Monument in Bulgan province, 80 km west of Bulgan town. The area is situated in the Khutag-Onder district of Bulgan Province. A smaller area was initially protected in 1965 again in 1995, it was designed as a Natural Monument with an area of 5,800 hectares. The peak over 1686 m form a circle-shaped ridge about 500m across that contains a crater lake at about 20 m wide and 1.5m deep. The Uran and surrounding others are considered to be the remnant of an extinct stratovolcano which formed between about 20-25 thousands years ago.
Day 13. Stay a Hotel, in Ulaanbaatar
Accommodation in hotel in UB*** with breakfasts
Accommodation at the tourist camp in the countryside
Accommodation in tents
All entrance fees to museum and Nat.Parks
City tour ticket
Folklore show
Guide service for all program
Excursions as per itinerary and entrance fees to all museums and National parks
Horse, camel riding
Meals during whole trip
Transport for all program
Visit Nomads family