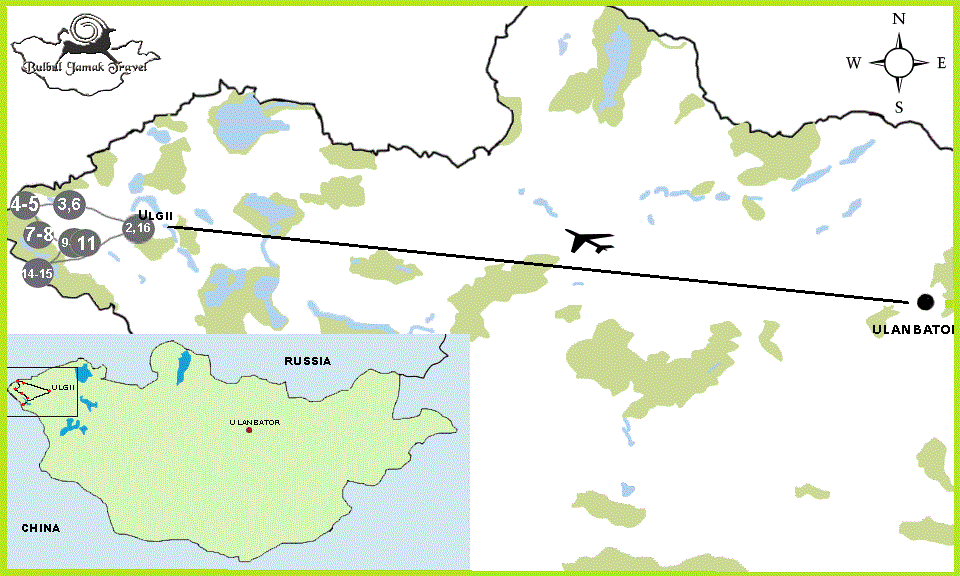 Day 1. Fly to Ulaan-Baatar
Arrive in Ulaan-Baatar at the airport Chingiskhaan and transfer to Hotel, sightseeing with Mongolian's largest Buddhist Monastery, listen to horns calling lamas to temple, rituals and observe the monks, after lunch visit Natural History museum.
Day 2. Fly to Bayan Ulgii, Western Mongolia
Arrive in Ulgii, the capital of the Bayan-Ulgii province, which is the most remote town of western Mongolia. Visit the most interesting a handicraft shop, local black market and museum. It is well stocked and with comprehensive information of flora and fauna of Bayan-Ulgii as well as it colorful traditional costumes. Stay in hotel
Day 3. Drive to Altai Tavan Bogd National Park.
Drive by minivans(furgon)180kmvia Ulaan-Hus along the northwestern roude. Explore numerous petroglyphs and Turkic stones. Area of Bayan Ulgii is rich in archeological remains of the Bronze Ages. At Shiveet Hairhan Mountain, where Tuvan nomads live, in Altai Tavan Bogd National Park. The Mountain is sacred for the residents and they protect numerous of ibex in there. Meet local horseman who prepare horses and camels. Overnight in tents.
Day 4. Tavan Bogd Massif
With the support of camels we will trek for 16 km towards to the base camp and camp next to the 20 km long Potanina glacier, which runs down from the highest mountain in Mongolia. Remain there for two nights. , Tavan Bogd means " The Holy Five" referring to the five highest peaks, of which Huiten Uul is the highest in Mongolia, 4374 meters above sea level.. The other peaks are named Nairamdal, Ulgii, Burged and Malchin. It is a stanning setting with the awe-inspiring massif of high snow capped peaks and gorgeous view of all of them during the sun set and sun rise.
Day 5. Climb Malchin Uul.
For a full day we will make day hikes to the Malchin Uul. You don't need any climbing gears. Just walking up 5 hrs only following by edge of Mulchin, you reach the top. Come back to the base camp same day.
Day 6. Back to Tagaan Gol Valley
Trek back to the head of Tsagaan Gol Valley where Tuban people spend their summer. Tuubans are shamans, and there are some tribe people who really practice shaman and they help sick people and do various shaman ceremonies. In the evening visit tuvan family and get introduced to their culture, taste dairy products as well as milk vodka, which is distilled from the yogurt made from yak milk. They also do wonderful felt crafts. Camp nearby the family.
Day 7,8. Altai Mountains crossing
We will load our equipments onto pack-camels and start trekking towards khar airah ,two full days for the crossing sing of the Altai Mountain range .We will pitch camp before the snowy area. Certainly big game such as Snow Leopards and its prey species live here, but they are extremely difficult to see. Perhaps you may see Altai snow cock, the highest altitude living bird of Mongolia. We will cross the Altai at the highest elevation of some 3600m, near the peak of Tsagaan Hairhan Uul(3662). Overnight in tent.
Day 9,10. Bear valley
Continue trekking through in the bear valley, spend one night near small waterfall. Trek down a valley with patches of larch forests and have a picnic lunch near so-called Green Lake, after few hours trekking down pitch camp. Overnights in tent.
Day . 11 Akh su.
Our impressive camel caravan comes out of the valley , we pitch camp at the bank of river. Stay in tent.
Day 12, 13 Aral Tobe(hill) and To Khoton Lake
Full day trek through dramatic steppe valley along the river, we pitch camp Aral Tobe, next day head to Khoton lake . The area is below the snow-capped Ikh Turgen Uul. We are now only 10 km from the China border. These are the summer pastures of numerous Kazakh herdsmen. Their yourts are a bonanza of handicraft. They are so friendly and hospitality people. You can enjoy to see when the sun setting and rising on the lake, swim and fishing. A fishing rod comes in handy here. The largest subspecies of Mongolian Grayling is easily fished here. Overnights in tent on the shore of Khoton lake
Day.14,15. To Baga Turgen Uul and waterfall.
Full day trekking and reach the joint of the two lakes, send back riding horses and camels, next day hiking nearby western side of Hurgan Lake and Hoton Lake, where many Nomadic Kazakh families spend summer time. Through in the Baga Turgen Valley we see the beautiful waterfall. On the right side snowcapped mountains with forest, which make the wall between China and Mongolia. Overnights in tent.
Day 16. Drive to Ulgii.
Day 17.Fly back to Ulaanbaatar.
After breakfast transfer to airport Ulgii, departure to UB.
Accommodation in hotel in UB*** with breakfasts
Accommodation at the tourist camp in the countryside
Accommodation in tents
All entrance fees to museum and Nat.Parks
City tour ticket
Folklore show
Guide service for all program
Excursions as per itinerary and entrance fees to all museums and National parks
Horse, camel riding
Meals during whole trip
Transport for all program
Visit Nomads family