Golden Eagle hunting Festival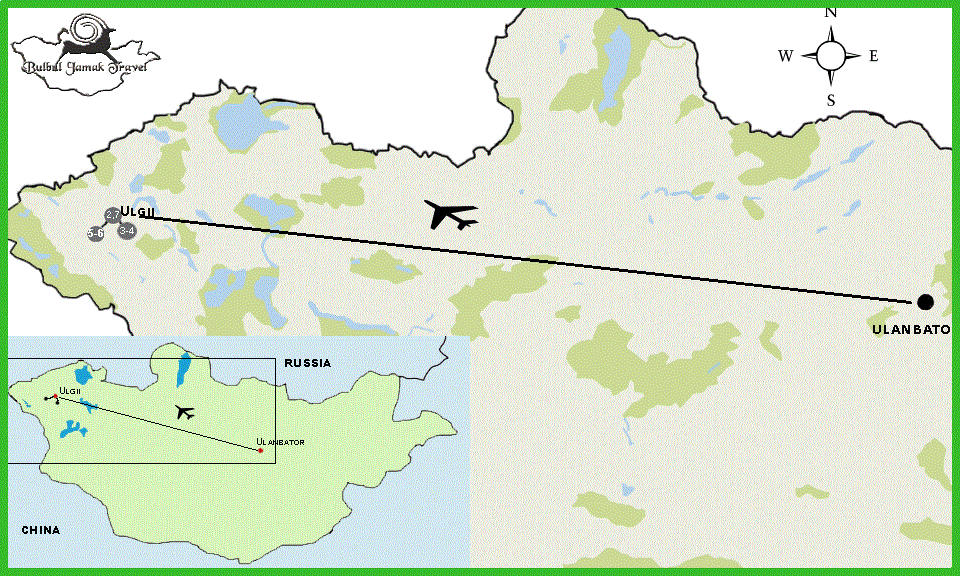 Day 1. Fligh to Bayan-Ulgii
Arrive in Ulgii, the capital of the Bayan-Ulgii province, which is the most remote town of western Mongolia. Visit the most interesting a handicraft shop, local black market and museum. It is well stocked and with comprehensive information of flora and fauna of Bayan-Ulgii as well as it colorful traditional costumes. Stay in hotel
Day 2,3. Goden Eagle hunting Festival
Eagle hunters from around regions gather to test their finely trained birds in singular contents of speed and agility in these few days, but there will be about 60-70 eaglehunters participating. During the festival we also see some Kazakh Traditiniol games like"bushKushi"(try to take out from each other the goat skin on horseback),"kiss woman on horseback" and others. In the evening we enjoy to have the Kazakh Concert with some traditional songs and music. Stay in a hotel in Ulgii.
Day 4,5. Heading to experienced Eagle hunter's family.
The Mongolian's eagle hunter use for hunting female eagles, because it is naturally bigger and better hunter than male ones. we will visit Kazakh families and stay with them feel their hospitality , As a local driver escorts, start touring the town to discover the indigenous Kazakh people's history and culture. Venture into a small town called Sagsai where eagle hunters live in. Truly immerse Kazakh people's culture and lifestyle, visit their traditional house. Experience lifting Golden Eagle on your arm and have a conversation with them. Overnight in Ger next to the nomad family.
Day 6. Drive back to Ulgii. Stay in hotel.
includes:
Accommodation in Ger, outside long drop toilets.

Guide service for all program

Visit Noads family
Excursions as per itinerary and entrance fees to all museums and National parks
Horse, camel riding
Meals during whole trip, private cook
Transport for all program
Visit Nomads family