Altai Tavan Bogd National Park & Golden Eagle Hunting Festival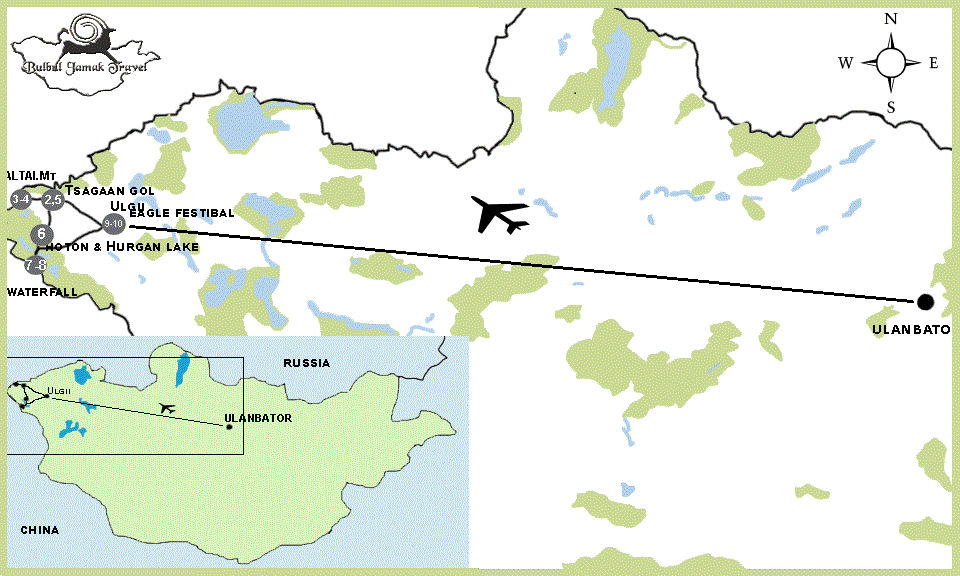 Day 1. Bayan-Ulgii
Flight to Ulgii, Which is the most remote town of western Mongolia. Visit local bazaar and museum. The museum is well stocked and some artifacts evoke communism since it was built before transition time Have lunch in a local restaurant and dinner, stay in a ger camp nearby the town, or in hotel.
Day 2. Altai Tavan Bogd National Park.
Drive about 180 km via Tsengel soum over desert mountain landscapes.Drive to towards Tsagaan Go Valley. When we reach the end of road, at Shiveet Hairhan Mountain, where Tuvan nomads live, in Altai Tavanbogd National Park. The mountain is sacre for the local people, and they don't hunt there as a result it is inhabit for over 400 mountain ibexes. Meet local Tuvan people who prepare horses and camels to support our trek. Stay in tent nearby Tuvan family
Day 3. Altai Tavan Bogd Massiff
With the support of camels we will horse riding for 16 km towards to the base camp and camp next to the 20 km long Potanina glacier, which runs down from the highest mountain in Mongolia. Remain there for two nights. , Tavan Bogd means " The Holy Five" referring to the five highest peaks, of which Huiten Uul is the highest in Mongolia, 4374 meters above sea level.. The other peaks are named Nairamdal, Ulgii, Burged and Malchin. It is a stanning setting with the awe-inspiring massif of high snow capped peaks and gorgeous view of all of them during the sun set and sun rise.
Day 4. Climb Malchin Uul.
For a full day we will make day hikes to the Malchin Uul. You don't need any climbing gears. Just walking up 5 hrs only following by edge of Mulchin, you reach the top. Come back to the base camp same day.
Day 5. Back to Tagaan Gol Valley
Trek back to the head of Tsagaan Gol Valley where Tuban people spend their summer. Tuubans are shamans, and there are some tribe people who really practice shaman and they help sick people and do various shaman ceremonies. In the evening visit tuban family and get introduced to their culture, taste dairy products as well as milk vodka, which is distilld from the yogurt made from yak milk. They also do wonderful felt crafts. Camp nearby the family.
Day 6. Sirgali area Via Snake Valley.
Drive via Snake Valley across beautiful mountain passes and through the biggest ancient burial sights. Explore numerous Turkic stones, as a reminder of the Bronze Ages and the times of the Huns and Turkic invasions. Sirgali is beautiful spot where two pristine twin lakes Hoton and Hurgan meet. Eternal snow caps with larch forest below and crystal clean mountain lakes make this area one of the most beautiful parts of the trip. It is also good place for fishing and good for bird watching. Stay in tent.
Day.7-8 Baga Turgen Waterfall
Hike to beautiful Baga Turgen Valley where there are three Waterfalls and go back just a few steps from Chinese border. Remain there two days.
Drive to Ulgii through Tsagaan Gol river valley and Tsengel soum , stop by some deer stones and balbals (Turkic stone man) and burial sights.. Stay in a hotel in Ulgii.
Day 9-10. Altay Golden Eagle Festival.
There a approx. 400 eaglehunters in Bayan-Ulgii aimag. Eagle hunters from around regions gather to test their finely trained birds in singular contents of speed and agility in these few days, but there will be about 60-70 eaglehunters participating. During the festival we also see some Kazakh Traditiniol games like"bushKushi"(try to take out from each other the goat skin on horseback),"kiss woman on horseback" and others. In the evening we enjoy to have the Kazakh Concert with some traditional songs and music. Stay in a hotel in Ulgii.
Day 11. Transfer to the Airport, departure UB.
Accommodation in hotel in UB*** with breakfasts
Accommodation at the tourist camp in the countryside
Accommodation in tents
All entrance fees to museum and Nat.Parks
City tour ticket
Folklore show
Guide service for all program
Excursions as per itinerary and entrance fees to all museums and National parks
Horse, camel riding
Meals during whole trip
Transport for all program
Visit Nomads family